Caterpillar engine and generator set
A Caterpillar engine and generator set is a package that includes a Caterpillar engine and electric generator. The engine supplies power to a generator that converts mechanical energy into electrical energy that can be used to power equipment or devices. These sets are commonly used for backup power, primary power, and rentals in various industries such as construction, mining, oil and gas, and telecommunications. Caterpillar offers training for individuals and organizations that operate and maintain Caterpillar engines and generator sets. The training covers a wide range of topics including:
Engine and generator operation and maintenance
Safety procedures
Troubleshooting and diagnostics
Technical data and specifications
Training can be delivered in a variety of formats, including classroom instruction, online and on-site training. Some of the courses are designed to meet specific regulatory requirements such as OSHA and EPA regulations. Caterpillar also offers certifications for individuals who complete certain training and pass an exam. Certifications demonstrate a level of expertise and knowledge in the Operation and maintenance of Caterpillar engines and aggregates. It is important to note that the training and certification offered by Caterpillar are specific to its products and may not be applicable to other brands of engines and generators.
INTRODUCTION AND OVERVIEW OF DIESEL GENERATOR
INTRODUCTION AND OVERVIEW OF CATERPILLAR GENERATORS
CATERPILLAR ENGINE FAMILY AND RATINGS
CATERPILLAR GENERATORS SERIES AND DESIGN
ELECTRICAL DESIGN
MECHANICAL DESIGN
FUEL AND COOLING SYSTEM
OPERATIONS MAINTENANCE AND TROUBLESHOOTING
AVRS AND EXCITATIONS SYSTEM
MEDIUM VOLTAGE & ASSOCIATED PROTECTIONS
GENERATORS RATINGS RANGE
ENGINE SERIES RANGE
CONTROL MODULES TYPES AND FUNCTIONS
DESIGN & LOAD CALCULATIONS
INSTALLATION, COMMISSIONING & MAINTENANCE
ISO AND INTERNATIONALS STANDARDS
POSSIBLE MECHANICALS FAULT AND REMEDY
POSSIBLE ELECTRICALS FAULT AND REMEDY
CASE STUDY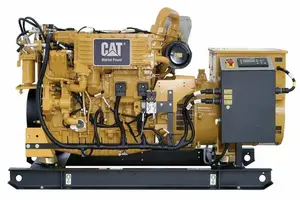 Caterpillar engine and generator set
Course Fee: 40,000/-
Duration; 1 Month
Timings: 9AM-11AM, 11AM-1PM, 1PM-3PM, 3PM-5PM, 5PM-7PM, 7PM-9PM