Electrical Substation and switch yards
Electrical substations and switchyards are the backbone of any electrical power distribution network. They play an important role in ensuring the reliable transmission of electricity from power plants to end-users. To master the intricacies of these critical components, individuals in the field need a comprehensive education. This is where Burraq Engineering Solutions comes in. We'll explore into the world of electrical substations and switchyards, introduce the course offered by Burraq Engineering Solutions, and answer some frequently asked questions (FAQs) about this crucial field.
I. Understanding Electrical Substations and Switchyards
Before diving into the course, it's essential to understand the basics of electrical substations and switchyards. This section provides an overview.
1.1 What are Electrical Substations and Switchyards?
Electrical substations and switchyards are facilities that help manage the distribution of electrical power. Substations receive high-voltage electricity from power plants and transform it into lower-voltage levels suitable for local distribution. Switchyards, on the other hand, are specialized facilities used to control the flow of electricity and protect the network from faults.
1.2 The Role of Substations and Switchyards
Substations and switchyards have several critical functions, including voltage transformation, circuit protection, and isolation of faulty equipment. They ensure a stable and reliable power supply to consumers.
II. Burraq Engineering Solutions: A Trusted Source for Learning
Now that you understand the importance of electrical substations and switchyards, let's take a closer look at Burraq Engineering Solutions, the platform that offers a specialized course in this field.
2.1 About Burraq Engineering Solutions
Burraq Engineering Solutions is a leading online learning platform that provides courses and training programs in various engineering disciplines. Their mission is to equip individuals with the knowledge and skills necessary to success in their chosen field. With experienced instructors and a commitment to excellence, Burraq Engineering Solutions stands out as a reliable source for quality education.
2.2 The Electrical Substations and Switchyards Course
The Electrical Substations and Switchyards Course offered by Burraq Engineering Solutions is a comprehensive program designed to educate individuals on the complex mechanisms of substations and switchyards. It covers a wide range of topics, making it suitable for both beginners and experienced professionals.
III. Course Highlights
In this section, we'll explore the key highlights of the course offered by Burraq Engineering Solutions.
3.1 Comprehensive Curriculum
The course covers a broad spectrum of topics, including but not limited to:
Substation design and layout
Electrical equipment used in substations
Switchyard design and operation
Protection and control systems
Safety protocols and regulations
3.2 Experienced Instructors
The instructors at Burraq Engineering Solutions are industry experts with years of experience in electrical engineering. They bring real-world insights and practical knowledge to the classroom, enhancing the learning experience.
3.3 Hands-On Learning
To provide a comprehensive understanding of electrical substations and switchyards, the course includes hands-on learning opportunities. Students get to work on actual equipment and participate in practical exercises.
3.4 Flexible Learning Options
Burraq Engineering Solutions offers both live instructor-led sessions and self-paced courses, allowing learners to choose the mode of study that best suits their schedule and learning style.
IV. FAQs – Your Burning Questions Answered
Here are some frequently asked questions about the Electrical Substations and Switchyards Course:
4.1 Who is the course suitable for?
This course is ideal for electrical engineers, technicians, and anyone interested in gaining expertise in electrical substations and switchyards. Whether you're a beginner or an experienced professional looking to enhance your skills, this course can benefit you.
4.2 What are the career prospects after completing the course?
Upon successful completion, you'll be well-equipped for careers in power utilities, electrical design, maintenance, and consulting. You can work in various roles, such as substation engineer, control engineer, or electrical inspector.
4.3 What is the duration of the course?
The duration of the course varies depending on the mode of study you choose. Live instructor-led sessions typically run for several weeks, while the self-paced option allows you to complete it at your own pace.
4.4 Are there any prerequisites for enrolling in the course?
While there are no strict prerequisites, a basic understanding of electrical engineering concepts can be beneficial. However, the course is designed to accommodate beginners as well.
Visit Burraq Engineering Solutions to learn more about the course and register for this career-enhancing opportunity. Mastering emergency electrical supplies has never been easier or more accessible.
Introduction to Substations: Components, applications, Installations
Design basis, SLD, symbols, Review
Major equipment and ancillaries: Power transformers, Circuit breakers, Voltage
regulators, Capacitors, reactors, Relays, Control equipment, high voltage terminations
Substations maintenance and testing methods
Insulation resistance, contact resistance
Switch gear arrangement,
Switch gear inspection and maintenance
Battery types, applications, systems and components, maintenance and testing
Ground testing fundamentals, maintenance and testing methods
Substation automation, protection & Control for transmission, PLC, SCADA
Transformer fundamentals, maintenance and testing methods
Electrical hazards and safety procedures
In-service care and use of required personal protective equipment
Energised and de-energised work procedures such as minimum approach distances and
lockout/tagout requirements
Temporary and permanent grounding systems and specific equipment hazards
Ground testing, Protection methods, Service and Maintenance operations, Codes,
Standards, Compliance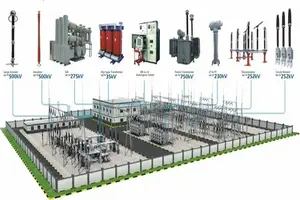 Electrical Substation and switch yards
Fee: 40,000
Duration: 1 Month
Timing: 9AM-11AM, 11AM-1PM, 1PM-3PM, 3PM-5PM, 5PM-7PM, 7PM-9PM