Entrepreneurship for Engineers
In a world where innovation is ever-changing, engineers play an important role in determining the future. However, many engineers aspire to venture beyond traditional roles and embark on a journey of entrepreneurship. This blog will delve into the fascinating world of entrepreneurship for engineers, shedding light on the possibilities, challenges, and success stories. We'll also highlight Burraq Engineering Solutions, a model business that is a testament to what engineers can achieve through entrepreneurship.
1: The Engineer's Call to Entrepreneurship
1:1 – The Mindset Shift
The shift from a typical engineering job to entrepreneurship begins with a change in mindset. Engineers have the unique ability to solve complex problems, which is the foundation of entrepreneurship.
1:2 – Identifying Opportunities
Identifying opportunities for innovation and market gaps is key to a successful entrepreneurial journey. Engineers can leverage their technical skills to create solutions for real-world problems.
1:3 – Passion for Innovation
Entrepreneurship for engineers often stems from a deep passion for innovation. We'll explore how the excitement enthusiasm can be a driving force in the business world.
2: The Challenges Engineers Face as Entrepreneurs
2:1 – Financial Challenges
Starting a business requires capital. Engineers may need help in securing funding for their ventures. We'll discuss strategies to overcome this hurdle.
2:2 – Marketing and Sales
Engineers may lack experience in marketing and sales. We'll explore the importance of effective marketing and sales strategies and provide insights into how engineers can adapt.
2:3 – Scaling and Growth
Scaling a business is a complex process. We'll delve into the challenges engineers face when expanding their startups and provide guidance on overcoming them.
3: Success Stories – Engineers Turned Entrepreneurs
3:1 – Burraq Engineering Solutions: A Case Study
Burraq Engineering Solutions, a company founded by a group of engineers, has achieved remarkable success. We'll examine their journey, highlighting their challenges, strategies, and triumphs.
3:2 – Other Notable Examples
We'll show other engineers who chose to pursue entrepreneurship, sharing their inspirational stories and the impact they've made in various industries.
4: How to Start Your Own Engineering Business
4:1 – The Business Plan
Creating a solid business plan is important for any startup. We'll outline the essential components and how to customize them to your engineering project.
4:2 – Building a Team
Engineers often need a multiple team with complementary skills to succeed. We'll discuss how to assemble the right team for your venture.
4:3 – Funding Your Startup
You are exploring different funding options, from bootstrapping to seeking investment and understanding which suits your business best.
5: FAQs About Entrepreneurship for Engineers
5:1 – Can I start a business without a business background?
Discover how engineers can thrive in the business world without a formal background in entrepreneurship.
5:2 – What are the key qualities an engineer needs to become a successful entrepreneur?
We'll list the essential qualities engineers should cultivate to excel as entrepreneurs.
5:3 – How can I balance technical work and entrepreneurship?
Find strategies to balance your engineering work with the demands of entrepreneurship effectively.
Are you ready to explore the exciting path of entrepreneurship for engineers? Burraq Engineering Solutions is a prime example of what can be achieved. Their story is a testament to the ingenuity and resilience of engineers who dare to venture beyond the traditional confines of their profession. Start your journey today and watch your engineering dreams come to life.
INTRODUCTION & OVERVIEW
THE START OF ENTREPRENEURIAL JOURNEY
WHY BECOME AN ENTREPRENEUR
ENGINEERING BUSINESS MARKETS & SEGMENTS
BUSINESS CONCEPT  IDEA CREATION
RESEARCHING YOUR BUSINESS IDEA
IDENTIFYING YOUR TARGET MARKET
ENTREPRENEURIAL OPPORTUNITIES
CUSTOMER DISCOVERY AND CUSTOMER VALIDATION
THE MINIMUM VIABLE PRODUCT
BUSINESS MODELLING
MARKETING & CREATING A MARKETING PLAN
RISK MANAGEMENT
BUSINESS STRATEGY AND FINANCE
FINDING ECOSYSTEM SUPPORT FOR YOUR INNOVATION
DETERMINING YOUR STARTUP STRATEGY
EXECUTION & CALL FOR ACTION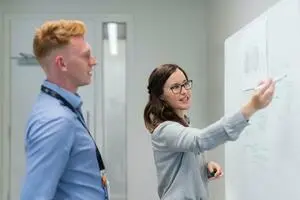 Entrepreneurship for Engineers
Fee: 40,000
Duration: 1 Month
Timing: 9AM-11AM, 11AM-1PM, 1PM-3PM, 3PM-5PM, 5PM-7PM, 7PM-9PM