Helioscope software Training
Burraq Engineering Solutions is an Institute that offers a range of solar and renewable energy-related courses, including training on the Helioscope software. They have the potential to offer training courses covering the features and functionality of the software, as well as best practices in the design and optimization of PV systems using the software. They can also provide support and consultancy services related to Helioscope and other solar technologies. 
Uses of Helioscope software 
Helioscope is a software tool for the design and optimization of PV systems. It allows users to create 3D models of PV systems and perform shading analysis, energy yield calculations, and financial analysis. It is commonly used by engineers, architects, and solar professionals to design and optimize PV systems for commercial and residential projects. It was developed by Aurora Solar. Helioscope is a software tool for designing and optimizing solar PV systems. It can be used for residential, commercial, and utility projects. Training for Helioscope typically involves learning how to enter project information such as site data and equipment specifications, and how to navigate and use the software's various design and analysis features. 
Burraq Engineering Solutions institute Provides the best IT and Engineering training in Lahore, Karachi, Faisalabad, Multan, Sahiwal, Islamabad, Hyderabad, Quetta, Peshawar, Rawalpindi, Gujranwala, Sialkot, Bahawalpur, Sahiwal, Rahim Yar Kahn, Dera Ghazi Khan, Dera Ismail Khan, Sheikhu Pura, and Mardan.
Helioscope Software Training Course Details
Introduction
Course Slides/Outlines
Create a Project
Create a Design
Draw the Mechanical Layout
Define the Electrical Settings
View a Report
Lead Engagement
Preliminary Design
Excel Calculation
Creating First Project in Helioscope
Designing with Multiple Segment
Obstruction and Shading Analysis
Designing Flush Mount System
Designing Ground Mount System
Designing East West Racking System
Designing Single Axis Tracking System
Choosing a Weather File
Understanding TMY Files
Production Estimates
PAN Files
Solar Panels Layout
Shading Analysis
Single Line Diagram Export
45,000 Component Library
Quick Design Revision
Google Maps Integration
PAN File Support
Unlimited Designs
API
Computer-Aided Drawing (CAD) Tools
Solar Energy Production Estimates
System Energy Loss Chart
3D Design
Voltage Drop Calculation
One-Click Sharing
SketchUp Shading Integration
Wiring Selection
NSRDB/NREL Meteo Integration
Up to 5MW Systems
Loss at Irradiance
Temperature Losses
Mismatch Losses
Overvoltage and Undervoltage Losses
Performance Ratio and kWh/kWp
Efficiency
Conclusion
Feedback and Additional Resources
Survey
Certificate of Completion
We offer in-person and online training options to cater to the preferences and availability of our participants. Our in-person training sessions provide an interactive and immersive learning experience, fostering collaboration and networking among participants. On the other hand, our online courses offer flexibility and convenience, allowing individuals to learn at their own pace from anywhere in the Gulf region like Kuwait, Dubai, Bahrain, Qatar, Saudi Arabia & Oman.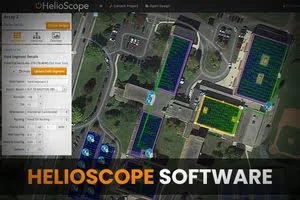 Helioscope software Training