ISO – Environment management system
ISO 14001 is the international standard that specifies requirements for an effective environmental management system (EMS). It provides a framework that an organization can follow, rather than establishing environmental performance requirements.
Part of the ISO 14000 family of standards on environmental management, ISO 14001 is a voluntary standard that organizations can certify to. Integrating it with other management systems standards, most commonly ISO 9001, can further assist in accomplishing organizational goals. The International Organization for Standardization (ISO) defines an environmental management system as "part of the management system used to manage environmental aspects, fulfill compliance obligations, and address risks and opportunities."
The framework in the ISO 14001 standard can be used within a plan-do-check-act (PDCA) approach to continuous improvement. ISO 14001:2015 should be used by any organization that wishes to set up, improve, or maintain an environmental management system to conform with its established environmental policy and requirements.
BES Institute's ISO – Environment management system Certification courses are designed to provide you with the skills and information needed to improve your quality management procedures and the effect you have within your business.
ISO – Environment management system Course Details
Introduction to environmental management systems (EMS)
ISO 14001 History
Introduction to ISO 14001:2015
Key changes in ISO 14001:2015
Overview of the ISO 14001:2015
Comparison between ISO 14001:2004 and ISO 14001:2015
Analyze ISO 14001 standard
Apply ISO 14001 standard
Risks and opportunities
ISO 14001:2015 auditing specifics
Types of audits & Audit Plan
Audit Work Documents
Audit approaches
Audit objectives, scope, and criteria
Auditor competence
Auditor principles and methods
Audit roles and responsibilities
Audit techniques & Gather information
Opening Meeting & Closing Meeting
Audit cycle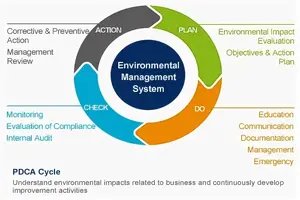 ISO – Environment management system
Fee: 40,000
Duration: 1 Month
Timing: 9AM-11AM, 11AM-1PM, 1PM-3PM, 3PM-5PM, 5PM-7PM, 7PM-9PM