Leadership development – corporate Training
Leadership development is the process of improving the skills and abilities of leaders in an organization. This can be achieved through a variety of means, including company training programs, coaching, mentoring and on-the-job learning experiences. The goal of leadership development is to help leaders better understand and meet the needs of their employees, improve their decision-making skills, and become more effective communicators and problem solvers. Corporate training programs are a common method of leadership development and can include workshops, seminars and online courses. Leadership development through corporate training programs has several benefits, including:
Better decision-making
Increased employee engagement
Improved communication

Greater Adaptability

Greater Problem Solving Ability
Greater ability to manage and develop employees
Better talent retention
Increased business performance: With the right leadership skills and development, a company can achieve better performance and growth.
BES Institute's Leadership development Certification courses are designed to provide you with the skills and information needed to improve your quality management procedures and the effect you have within your business.

Strategic Orientation
Customer Engagement
Problem and Conflict Resolution
Objective Decision Making
Technology Orientation
Team Management
Personal and Financial Skills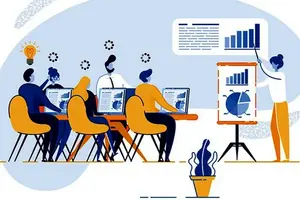 Leadership development – corporate Training
Fee: 40,000
Duration: 1 Month
Timing: 9AM-11AM, 11AM-1PM, 1PM-3PM, 3PM-5PM, 5PM-7PM, 7PM-9PM