Lean six sigma for supply chain management
Lean Six Sigma improves your manufacturing process in many different ways. Lean's unique focus on eradicating all forms of waste and Six Sigma's commitment to eliminating defects by reducing process variation make the combination a powerful tool for creating continuous process improvement. Organizations are now using Lean Six Sigma to eliminate waste and reduce variation in their supply chains.
Lean Six Sigma helps increase efficiency in several ways:
Reduction of order processing time: Using Lean Six Sigma to review an organization's order fulfillment system helps project teams identify areas of high waste and variance. Once identified, deficiencies in the order fulfillment process can be corrected by reducing paperwork, automating picking and shipping scheduling, and automating shipment verification. The Six Sigma DMAIC cycle helps to improve the existing order fulfillment process and DMADV helps to create a new process.
Building a Responsive Supply Chain: An organization's supply chain must be agile and respond quickly to the changing needs of its customers. Companies that are attuned to the changing needs of their customers have completed the critical first step in creating a supply chain that meets those needs. The definition phase of Six Sigma requires organizations to measure their progress in terms that customers consider critical to quality (CTQ).
BES Institute's Lean six sigma for supply chain management Certification courses are designed to provide you with the skills and information needed to improve your quality management procedures and the effect you have within your business.

SUPPLY CHAIN CONTEXT
ORGANISATIONAL STRATEGY
SUPPLY CHAIN STRATEGY
PURCHASING AND SUPPLY
SUPPLY STRATEGY & MARKET ANALYSIS
FINANCE IN THE SUPPLY CHAIN
APPRAISING SUPPLIERS
THE TENDER PROCESS
PREPARING NEGOTIATIONS
CONTRACT MANAGEMENT SETUP
EVALUATING SUPPLIER PERFORMANCE
OPERATIONS MANAGEMENT
PROCESS SUPPORT SYSTEMS
LOGISTICS MANAGEMENT
QUALITY IN THE SUPPLY CHAIN
INVENTORY & MANAGING INVENTORY
WAREHOUSING & PACKAGING
TRANSPORTATION
CUSTOMER RELATIONSHIP MANAGEMENT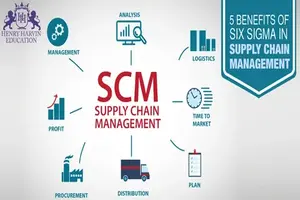 Lean six sigma for supply chain management
Fee: 40,000
Duration: 1 Month
Timing: 9AM-11AM, 11AM-1PM, 1PM-3PM, 3PM-5PM, 5PM-7PM, 7PM-9PM