lss minitab statistical software​
LSS MINITAB STATISTICAL SOFTWARE package widely used for data analysis and statistical process control. It provides a wide range of statistical tools and graphical options, including descriptive statistics, hypothesis testing, regression analysis, and control charts.
Minitab is known for its user-friendly interface and ability to process large data sets. It is commonly used in a variety of industries, including manufacturing, healthcare, and education. Minitab offers a variety of training options for individuals and organizations who want to learn how to use the software effectively. These options include:
Online Training Courses
In-person training
Onsite Training
Webinars
Tutorials and Videos
In addition, there are many consulting and training companies around the world that provide Minitab training, and many universities and colleges offer Minitab courses as part of their statistics or engineering curricula.
BES Institute's LSS MINITAB STATISTICAL SOFTWARE Certification courses are designed to provide you with the skills and information needed to improve your quality management procedures and the effect you have within your business.

statistical quality analysis
factorial designs
additional topics in statistical quality analysis
analysis of nonnormal data for quality
statistical modeling
response surface designs
doe in practice
formulation and mixture designs
introduction to reliability
advanced reliability
automating analyses in minitab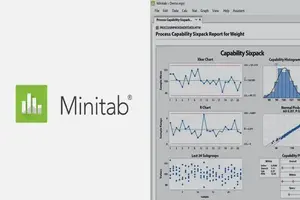 lss minitab statistical software​
Fee: 40,000
Duration: 1 Month
Timing: 9AM-11AM, 11AM-1PM, 1PM-3PM, 3PM-5PM, 5PM-7PM, 7PM-9PM