Technology Leadership and Entrepreneurship
The Technology Innovation Leadership minor prepares students to effectively create and navigate the technological innovation climate within an organization or team. By combining creative leadership practices with design thinking skills and socio-technical problem analysis, students will solve large-scale problems related to technological innovation. The program will focus on innovative thinking, a critical complement to business thinking that will enable students to bring new ideas and energy to their leadership experiences and socio-technical challenges.
Benifits of Leadership and Entrepreneurship
The course will explore the various ways leaders and social entrepreneurs strategically use innovative technology and information to address social, cultural and environmental issues. Describe and analyze the principles of technological innovation, leadership, and entrepreneurship. Assess the role that entrepreneurship and technological innovation play in societal well-being and development. Describe and apply practical, hands-on business and leadership skills through the development of creative and innovative solutions to societal problems. Analyze the ways in which social entrepreneurs strategically use innovative technologies and information to solve social, cultural and environmental problems. Implement best practices and knowledge to successfully lead, create and discover while maintaining a culture of innovation in your organizations and teams.
BES Institute's Technology Leadership and Entrepreneurship Certification courses are designed to provide you with the skills and information needed to improve your quality management procedures and the effect you have within your business.

FUNDAMENTALS OF TECHNOLOGY ENTREPRENEURSHIP IN GLOBAL CONTENT
THE ENTREPRENEURIAL PERSPECTIVE
INNOVATION AS A CORE BUSINESS PROCESS
BUILDING THE INNOVATIVE ORGANIZATION
STRATEGY DEVELOPMENT FOR TECHNOLOGY ENTREPRENEURSHIP
STRATEGIC APPROACH FOR TECHNOLOGY ENTREPRENEURSHIP
SOURCES OF TECHNOLOGY INNOVATION. ENVIRONMENTAL ANALYSIS
DEVELOPING STRATEGY FOR TECHNOLOGY BUSINESS
TECH COMMERCIALIZATION
DISRUPTIVE TECHNOLOGIES
LEADERSHIP AND COMMUNICATIONS
STARTUP FINANCING
BUSINESS MODELING
MANAGING A GROWING TECHNOLOGY BUSINESS
EXIT STRATEGIES AND OPTIONS
DETERMINING YOUR STARTUP STRATEGY
EXECUTION & CALL FOR ACTION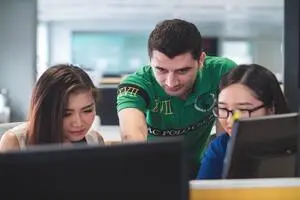 Technology Leadership and Entrepreneurship
Fee: 40,000
Duration: 1 Month
Timing: 9AM-11AM, 11AM-1PM, 1PM-3PM, 3PM-5PM, 5PM-7PM, 7PM-9PM