Total Quality management (TQM)
What is your definition of quality? Quality means different things to different people. The Quality Management course begins with a variety of definitions of quality, including fitness for use, conformance to specification, reduced variation, consistency, meeting or exceeding customer expectations, and so on.
There is a widespread misconception that quality costs money, and that higher-quality products are more expensive than lower-quality products. Deming's chain is used to explain how good quality reduces waste, increases productivity, and lowers the cost of production. This ultimately leads to the organization's survival in this competitive market and provides employment.
Goal of Total Quality Management
The Goal of total quality management is to hold all parties involved in the production process accountable for the overall quality of the final product or service. Total quality management is a structured approach to the overall management of an organization. The focus of the process is improving the quality of the organization's outputs, including goods and services, through continuous improvement of internal procedures. 
Total Quality management (TQM)
Total quality management (TQM) is the continuous process of detecting and reducing or eliminating errors in production, streamlining supply chain management, improving the customer experience, and ensuring that employees are trained in a timely manner.
Standards set as part of a TQM
approach can reflect both internal priorities and any currently applicable
industry standards. Industry standards can be defined at multiple levels and
may include compliance with various laws and regulations governing the
operation of a particular business. Industry standards can also involve making
items according to an understandable standard, even if the standard is not
supported by official regulations. The history of TQM often goes back to the
early 20th century, when Walter A. Shewhart introduced modern quality
control. In 1931, Shewhart presented a seminal piece of industrial work
entitled Economic Control of Manufactured Product Quality. This exposure is
considered one of the basic principles of production quality control.
BES Institute's Total quality managementCertification courses are designed to provide you with the skills and information needed to improve your quality management procedures and the effect you have within your business.
Introduction to TQM
Fundamentals of Quality and TQM
Functions of TQM
Daily Management and Policy Management
SWOT Analysis
5S and Visual Management
Customer Focus
Employee Involvement & Empowerment
Process Management
Cost of Quality
Business Excellence & Quality Management Models
Total Quality Leadership
TQM Implementation
Methods & Tools for Total Quality
Voice of Customer (VOC)
Problem Solving Tools and Techniques
Conceptual Framework to Implement TQM
An Overview on QMS ISO 9001:2015
National and International Quality Awards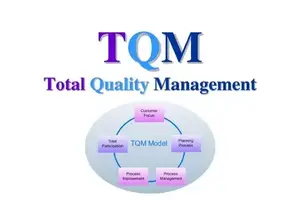 Total Quality management (TQM)
Fee: 40,000
Duration: 1 Month
Timing: 9AM-11AM, 11AM-1PM, 1PM-3PM, 3PM-5PM, 5PM-7PM, 7PM-9PM