ISO Quality management system standards
ISO 14001:2015 specifies requirements for an environmental management system that an organization can use to improve its environmental performance. ISO 14001:2015 is intended for use by organizations seeking to manage their environmental responsibility in a systematic manner that contributes to the environmental pillar of sustainability. ISO 14001:2015 helps an organization achieve the intended outcomes of its environmental management system that provide value for the environment, the organization itself and stakeholders. 
In accordance with the organization's environmental policy, the intended results of the environmental management system include: ISO 14001:2015 is applicable to any organization regardless of size, type and nature and covers the environmental aspects of its activities, products and services that the organization decides can either control or influence with respect to the life cycle perspective. ISO 14001:2015 does not specify specific criteria for environmental behavior. 
ISO 14001:2015 can be used in whole or in part to systematically improve environmental management. However, claims of compliance with ISO 14001:2015 are not acceptable unless all of its requirements are incorporated into the organization's environmental management system and met without exception.
Basic Quality Concepts, 7 Quality Principles, History of ISO, ISO 9000 family
and ISO
9001 Standard
The basics of Quality Management System – QMS
The study of the timeline from 2008 to 2015 version of ISO 9001
Differences between ISO 9001:2008 vs ISO 9001:2015
Process Approach, PDCA and Risk-Based Thinking
Role of top management, leadership
Context of the organization, interested parties
Documented information
Organizational Knowledge
Competency and awareness
How to audit is done, audit planning, execution, NCR reporting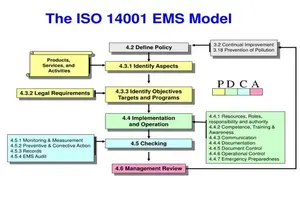 ISO Quality management system standards
Fee: 40,000
Duration: 1 Month
Timing: 9AM-11AM, 11AM-1PM, 1PM-3PM, 3PM-5PM, 5PM-7PM, 7PM-9PM