QA / QC For Mechanical Engineers
QA / QC For Mechanical Engineers is the study of physical machines that may involve force and movement. It is an engineering branch that combines engineering physics and mathematics principles with materials science, to design, analyze, manufacture, and maintain mechanical systems. It is one of the oldest and broadest of engineering branches.
Mechanical engineering emerged as a field during the Industrial Revolution in Europe in the 18th century; however, its development can be traced back several thousand years around the world. In the 19th century, developments in physics led to the development of mechanical engineering science.
The field has continually evolved to incorporate advancements; today mechanical engineers are pursuing developments in such areas as composites, mechatronics, and nanotechnology. It also overlaps with aerospace engineering, metallurgical engineering, civil engineering, structural engineering, electrical engineering, manufacturing engineering, chemical engineering, industrial engineering, and other engineering disciplines to varying amounts. Mechanical engineers may also work in the field of biomedical engineering, specifically with biomechanics, transport phenomena, biomechatronics, bionanotechnology, and modelling of biological systems.
1. Engineers can find work everywhere in the globe in the industries or areas listed below.
2. Advance in your current position
3. Acquire professional skill knowledge as needed on the job.
Roles and Responsibilities of QA / QC Engineer Mechanical.
Introduction to ISO 9001 . ISO 9004 , ISO 14000. ISO 19011.
Interpretations of Quality Management Systems ISO 9001 : 2008.
International Codes and Standards.
Standard Material Specifications.
Overview of Type of Equipment.
QA / QC Requirements of Jobs / Projects.
Receiving Inspection, in process Inspection & Final Inspection.
Control of Nonconforming of Items / Products.
Calibration of Monitoring & Measuring Equipment.
Welding and NDT Requirements.
Preparation of Project Quality Plan.
Preparation of Inspection Test Plans – ITPs for Different Disciplines.
Preparation of QC Procedures for Different Disciplines.
Pressure Testing and Control of QA / QC Documents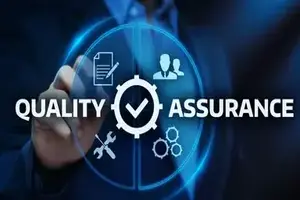 QA / QC For Mechanical Engineers
Fee: 40,000
Duration: 1 Month
Timing: 9AM-11AM, 11AM-1PM, 1PM-3PM, 3PM-5PM, 5PM-7PM, 7PM-9PM