personality development & communication skills​
Personality development refers to the process of improving one's character, behavior and overall personality. This can be achieved through a variety of methods such as self-reflection, therapy and skill-building exercises. Some ways to develop effective communication skills include:
Practice active listening
Learn to express yourself clearly and concisely
Improve your non-verbal communication skills
Learn to effectively manage conflict and difficult conversations
Take an effective communication course or workshop.
There are a number of ways to get training in personality development and communication skills. Some options include:
Workshops
Online Courses
Coaching or Therapy
Books and Resources
Practic
SELF-AWARENESS / SELF ANALYSIS
WHAT IS SUCCESS?
HOW TO BUILD A POSITIVE PERSONALITY
IMPORTANCE OF SELF CONFIDENCE
HOW TO BUILD SELF CONFIDENCE
POSITIVE THINKING AND MOTIVATION
THE POWER OF POSITIVE ATTITUDE AND EMOTIONS
CAREER PLANNING
IMPORTANCE OF COMMITMENT
POWER OF PERSISTENCE
WAYS TO MOTIVATE ONESELF:
GOAL SETTING
HOW TO BE SELF-MOTIVATED
CHARACTER BUILDING
IMPORTANCE OF VALUES
IMPORTANCE OF BEING A GOOD HUMAN BEING
IMPORTANCE OF GOOD HABITS
EFFECTIVE LEADERSHIP SKILLS
EFFECTIVE COMMUNICATION SKILLS
EFFECTIVE NON-VERBAL COMMUNICATION
ACTIVE LISTENING
PEOPLE SKILLS
EFFECTIVE INTERPERSONAL SKILLS
THE POWER OF STROKES
TEAM WORK
PERSONAL GROOMING
PERSONAL HYGIENE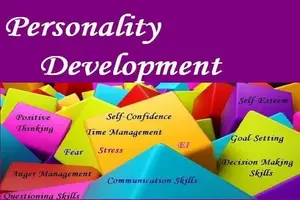 Personality Development & Communication Skills​​
Fee: 40,000
Duration: 1 Month
Timing: 9AM-11AM, 11AM-1PM, 1PM-3PM, 3PM-5PM, 5PM-7PM, 7PM-9PM